I've finally decided to upgrade my old Pentium 4 in mind and body. The Mac Pro was ordered in the morning and arrived at the evening on the same day.
It was the refurbished set that was on Apple Store online. I've always been a big fan of refurbished products. Maybe fan wasn't the correct description since my only other refurbished product is the iPod.
I spent a long time on the check out page. Well, the mean machine cost S$3628. Some painful doubt is in order.
When I first opened the box, I noticed the wireless keyboard. That only meant that the previous guy had also bought a wireless mouse and fitted the Mac Pro with a wireless card. Not bad, some free stuff.
When I got to the registration page during the system set up, the Mac Pro was searching for wireless Internet connection. Free Airport Extreme Card!
Upon getting into OS X, I fired up the System Profiler and what I saw blew my mind. The previous owner had upgraded the processor to quad 3ghz Xeon instead of the 2.66ghz listed on the refurbished description. That's almost over $1300 worth of free upgrade! Not only that, he has also increased the RAM from the default 1gb to 4gb! And he has also upgraded the graphics card to X1900XT!
After totaling up everything, my $3628 actually bought a $9138 worth of Mac Pro.
Don't be jealous. Because even I'm jealous of myself.
Enough talking. Here are some photos.
This is the box. Actually, I was expected a brown generic box because it said it was a refurbished item. If you look closely, you'll see that there's a lot of scotch tape over the opening. Also, something not inside the photo, the shipping address sticker at the bottom was pasted over the previous shipping address. I could only make out that the Mac Pro was previously sent to International Plaza.
I was greeted with the Mighty Mouse. As I already have a MX1000, this mouse has to go.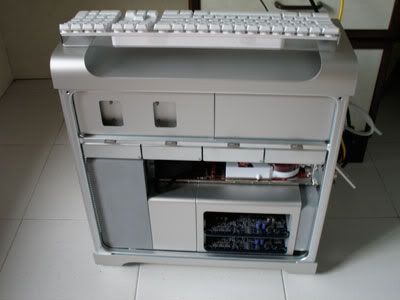 This is the Mac Pro opened up. I must say that this is a brilliant piece of engineering.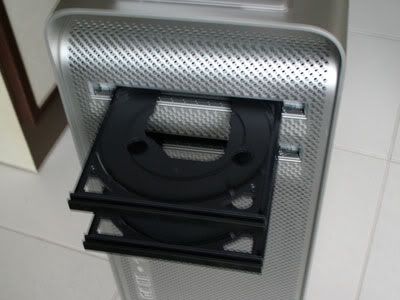 The previous buyer has also ordered an extra DVD burner. The good thing is, the top burner now is set to region 1 and bottom to region 3. I'm happy to know that all my DVDs can be played with no problems.
This is the Mac Pro playing the 9 min Ratatouille sneak trailer. It's HD 1080 and it played effortlessly.