Yesterday, I thought the books from Amazon were coming. The CDs came first instead, despite the email saying they were mailed a day after the books.
Here's what I've bought,
So that's 6 CDs costing SGD155 including shipping arriving after 12 days.
Update: The books came in a separate package in the afternoon.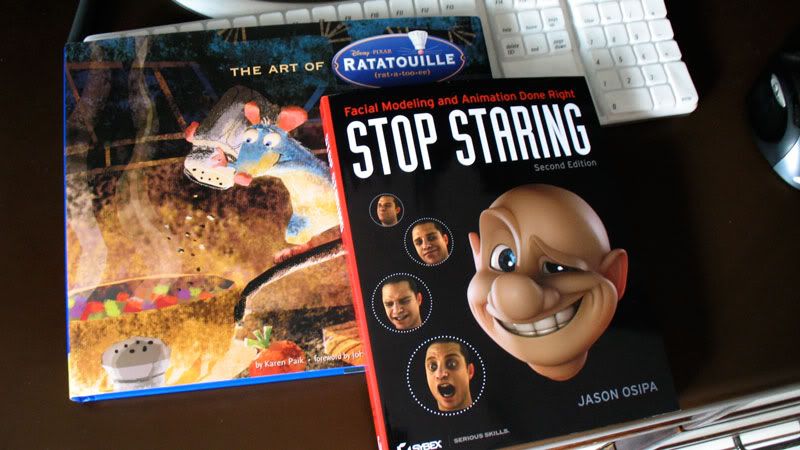 The books I've ordered are,
Stop Staring: Facial Modeling and Animation Done Right
and
Art of Ratatouille
.
These two cost SGD114. So that's like SGD57 per book inclusive of shipping. I went down to Borders few days ago armed with a 25% discount coupon. After the discount, Art of Ratatouille cost SGD60. The other book is also much cheaper when bought from Amazon.com.
As much as I support the Singapore economy, buying books is, amazingly, cheaper from foreign countries thousands of miles away. It makes you wonder what profit margin local stores are charging during their non promotional days. And mind you, these big bookshops buy stuffs in bulk and have their own distribution channels.
With the GST going up 2% in July, it will no longer make any economic sense to buy books in Singapore. I've a Popular discount card of 10%. Effectively, it will only be 3% in July.
CDs on the other hand are more expensive but the variety on Amazon is unparalleled.
Side notes:
While I'm talking about Amazon, I must say that their stock/share price is rising and will continue to rise in the future. It now stands atUS$72. It was US30++ last year. Despite its high price, it's a strong buy. Why? If you know what Jeff Bezos is doing, you will be rest assured that it will continue to go up and stay up.