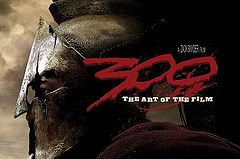 This book doesn't explain much on the process of making the movie. Most of the art in the book lack captions. This book feels light in content simply for the fact that you don't get much information.
There are plenty of conceptual art, 3D renders and storyboards. But there seem to a lot of movie stills as well, to the effect that it felt that half the book contained movie stills. There are also a lot of 3 penciled storyboards that take one page to themselves. Certainly they don't deserve those sizes.
For a movie based on a graphic novel, I was expecting much more paintings to be included in the book. The movie was shot too stylistically that it's hard to imagine that there are not much more storyboard paintings.
Visit the link beside to read more reviews on Amazon. If you buy from the link, I get a little commission that helps me get more art books for review.
Country-specific Amazon links for this book:
Amazon.com
|
Amazon.ca
|
Amazon.co.uk
|
Amazon.fr
|
Amazon.de
Check out other books I've reviewed also, with pictures:
Art book list
|
Design book list